APSU Summer Workshop: Benefit Concert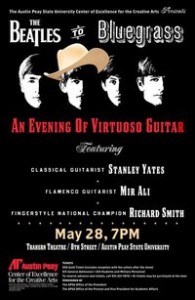 This Friday, May 28 in Clarksville, TN Stanley Yates, Mir Ali, and Richard Smith will present a concert called "The Beatles to Bluegrass."
Check out the Facebook event to RVSP and for more information. Here's a bit about the performers:
Dr. Stanley Yates, Professor of Music, directs guitar study at APSU. Recently elected to the Artistic Advisory Board of the Guitar Foundation of America, he has achieved wide recognition as virtuoso performer, recording artist, teacher, arranger and scholar. He is featured in the new edition of the important reference work, The Classical Guitar – Its Evolution, Players and Personalities Since 1800.
Pakistani-born guitar virtuoso and composer Mir Ali has been described by Acoustic Guitar Magazine as "an exceptional nylon string guitarist" and by NPR as "mesmerizing and hypnotic" Since winning his first guitar competition at the age of thirteen, Mir has been raising eyebrows of audiences and music critics around the globe with unique, expressive and dazzling performances. He is a fluent performer of flamenco guitar, an experienced jazz stylist, a trained practitioner of North Indian classical music, an award-winning classical guitarist, and a composer of music in several genres.
Richard Smith first met his hero, Chet Atkins, when he was only eleven. Richard was invited by Chet to play with him on stage at Her Majesty's Theatre in London in front of an audience of 1,000. He played Chet's arrangement of "Whispering," and Chet played along with him. The audience was so enraptured with Richard that Chet asked him to play another tune. Chet sat in stunned silence while Richard played Chet's arrangement of "Little Rock Getaway" – perfectly. Chet was too amazed to even play along! By the time he reached his early twenties, both Chet Atkins and Jerry Reed began to refer to Richard Smith as their "Hero." Richard was the 2001 National Fingerstyle Guitar champion.