University of Louisville Guitar Festival Review
I had the opportunity to attend the U of L Guitar Festival/Competition earlier this summer. Dr. Stephen Mattingly, the festival's director, put together a great weekend with just the right blend of concerts, masterclasses, and lectures.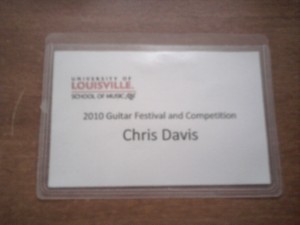 The Tantalus Quartet opened the festival Friday night. Tantalus focuses on playing music by living composers; the program opened with Domeniconi and continued with Houghton and Dyens. The second half of the concert featured works by composers that the quartet worked with closes. One piece, Above the Green Night, written by Edie Hill was particularly interesting. Apostolos Paraskevas' A Feast for Tantalus closed the concert. The piece was written specifically for the Tantalus Quartet, and was the perfect closer. The playing was top notch. I also appreciated the guys talking a bit about each piece before playing it. All the guys in the quartet are very passionate about what they do. If you get a chance to see them, do it.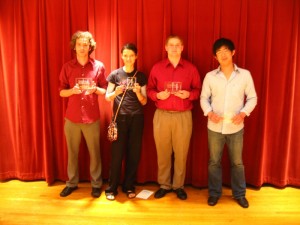 Day 2
Each day of the festival opened with a "Technique and Finger Arobics" class given by Dr. Mattingly. Unfortunately, I had warming up to do for the competition preliminary round, so I didn't get to go. After playing for the competition, I went to "Stress Reduction and Relaxation Techniques for Performing Musicians", a talk given by Jesical Bonatakis-Mattingly. Jessica is a Psy.D. candidate, and talked about some symptoms of burn out/stress while offering suggestions on how to deal with the emotional, behavioral, and physical effects of both. Before the clinic closed, she walked us through an awesome relaxation technique very similar to meditation. It was a good lecture, but I think the relaxation technique was the highlight. Too bad she didn't do it before I had to perform that day.
Kristian Anderson and Dr. Mattingly both did masterclasses in the afternoon, and there were two concerts that evening. The first was a split recital with two very disparate performers. The first, David Walker, performing Robert de Visée's music on Baroque Guitar. I haven't had the opportunity to hear a period instrument performance before so it was a good experience. After intermission, Dieter Hennings performed a 25 minute work titled Partita by mexican composer Juan Trigos. Frankly, the piece was great: interesting harmonies and well-developed ideas. The piece is in five movements and the composer clearly has a great sense of pacing to keep audiences interested. Dieter displayed impressive musicianship and technique while performing this difficult work. (Check out Dieter's website to listen to this piece.)
Jason Vieaux performed a concert Saturday night. Most of us have heard Jason on recording or Youtube, but neither medium does him justice. Jason has a stage presence and ability that is matched by few musicians; the audience hung on to every note. Jason is one of the most dynamic players I've heard, and every phrase was shaped. That said, I didn't agree with all of his interpretive choices (specifically in Brouwer's El Decameron Negro and Bach's third Lute Suite, BWV 995). He performed works by Albeniz, Brouwer, Bach, Barrios, Martin, and Pat Metheny.
Day 3
Day three began with a masterclass given by Jason Vieaux. Some take away points: respect the score, practice with music (even when it's memorized), dynamic levels should take pieces as a whole into account (across multiple movements), when playing louder the right hand knuckles should be less perpendicular to the strings (thing 45 degree angle or greater).
Michael Fogler gave a lecture that afternoon on practicing. While he doesn't break a lot of new ground, his tips are the best tibits of knowledge he's acquired over thirty years of practicing and performing. Even if they seem elementary, everyone needs those reminders. His lecture was similar to this one:
The 4pm concert was the competition finals, and the final concert of the weekend was William Yelverton, the guitar professor from Middle Tennessee State University. Yelverton presented an extremely varied program. He opened with some Spanish dances, followed by Dowland (played on a lute). Rameau, played on alto guitar (very interesting sound, worth experiencing), closed the first half. After intermission Yelverton performed pieces inspired by the blues, then some Rodrigo and Gismonti. Dr. Yelverton is an able performer who rose to the challenge of presenting the varied program he did. I can't image how weird it is to switch hats in the middle of a concert to play lute.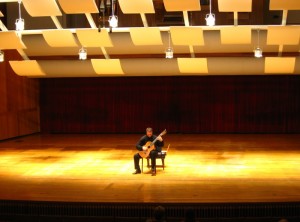 Overall, it was a great weekend. There's nothing quite like a guitar festival to inspire and motivate you as a player. Although I didn't make it through to the finals, the competition was good experience. If you're serious about your playing, there is no more intense situation than playing for a panel of judges.