A Cure for the Common Fetish: The $100 Guitar Project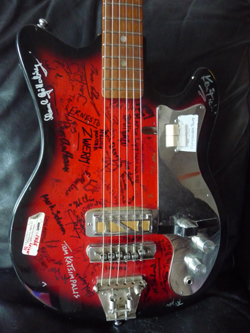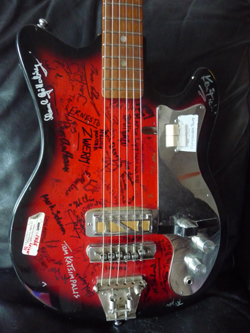 Most musicians (myself included) spend way too much time thinking, fantasizing, and obsessing over their instruments. Whether the object of desire is a vintage specimen or the latest contemporary fad, I have noticed a tendency in my own thinking to anticipate all kinds of tonal, musical, and practical improvements with the acquisition of the next best thing. I unabashedly call it fetishism, as that's all it is: the projection of ineffable, magical powers onto an inanimate object.
In this light, the recent release from Bridge Records offers a welcome change to gearheads like me. Take the cheapest, least identifiable guitar on the online catalogue at Elderly Musical Instruments (a website where I have spent my fair amount of time drooling over vintage resonators and boutique steel-string acoustics), send it along on a 30,000 mile-long journey, with 65 stop-overs at the homes of some of today's most adventurous guitarists, have each musician come up with *something* inspired by the guitar, record it, and see what happens.
Oh, did I forget to mention that a sizable portion of the proceeds go to CARE, a foundation fighting hunger and global poverty? The pairing seems especially fitting to me—consider the thousands of musicians throughout the world who are vibrating the air with whatever salvaged instrument they can get their hands on. The wonderfully strange music of the $100 Guitar Project reminds us that it's the hands, hearts, and brains that count—not so much the wood, metal, and glue.
The range of music on this double record is such that it would be pointless to go into a detailed review. Expect to hear a wide variety of styles as the list of participants amounts to a sort of who's who in the contemporary experimental, avant-garde, and indie scene (Nels Cline anyone?!):
Alex Skolnick, David Starobin, Elliott Sharp, Mike Keneally, Barry Cleveland, Fred Frith, Henry Kaiser, Mark Hitt, Keith Rowe, Nels Cline, Andy Aledort, Hillary Fielding, John Shiurba, Karl Evangelista, Phil Burk, Ray Kallas, Janet Feder, Thomas Dimuzio, Julia Miller, Chris Murphy, Chuck O'Meara, Marty Carlson, Shawn Persinger, Kai Niggemann, Steve MacLean, Ken Field, Roger Miller, Michael Bierylo, Bill Brovold, Larry Polansky, Biota, Bill Sharp, Ava Mendoza, Amy Denio, Bruce Eisenbeil, Caroline Feldmeier, Colin Marston, David Linaburg, Hans Tammen, James Moore, Jesse Krakow, Jesse Kranzler, Joe Bouchard, Jon Diaz, Josh Lopes, Kobe Van Cauwenberghe, Marco Cappelli, Marco Oppedisano, Joe Berger, Mark Solomon, Mark Stewart, Mike Lerner, Nick Didkovsky, Rhys Chatham, Ron Anderson, Taylor Levine, Tom Marsan, Greg Anderson, Han-earl Park, Del Rey, Matt Wilson, Bruce Zeines, Toon Callier/ZWERM, Juan Parra, and Wiek Hijmanns.
Despite the diversity (and the home-rigged nature of many of the recordings), the album is extremely well produced and feels like a cohesive, polished listening experience. Kudos to project originators Nick Didkovsky and Chuck O'Meara, and to Bridge Records' David Starobin for bringing this adventure to the public. You can see videos, maps, and pictures over at the official website; the album is available on Amazon and iTunes.
I urge every guitar fan to check out this unprecedented and unmistakably cool project, as it offers a wonderful snapshot of today's fertile and diverse guitar scene while also contributing to a noble cause. And who knows, it may inspire some of us to ease on the fetishising and focus on the music.