While practicing today, I did something that worked so well I had to share it. It's very easy to play loud and sound thin and gross. But did you know that your hand position can be adjusted for super loud passages to avoid sounding thin and naily?
This is a tip I learned from Jason Vieaux. During a masterclass he suggested you should adjust your right hand position while playing loud. He wants the right hand fingers to slice across the strings at a shallower angle. Here's the standard hand position: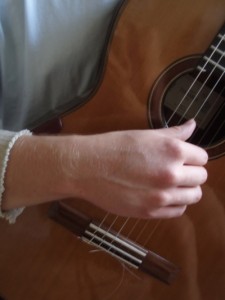 Instead of using the typical straight wrist, try moving the wrist to the right and down a bit. It's not a great position hand position, but the sound is worth it. Just don't use this position all the time.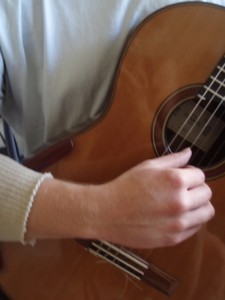 Just for fun, try playing a few loud chords and adjust your right hand's position. You should find that this easy tip works really well to preserve a good sound while playing loud.