Breathing While Playing Guitar
Unlike wind players or singers, us string folk don't have to worry much about breathing while we play–except to survive and all that. However, breathing with the music can make a lot of difference in expressiveness and musicality of an interpretation.
The simplest, easiest place to take a breath is before you start playing. Instrumentalists and singers do this all the time and don't even think about it–so do good conductors! Your breath and the beginning of a piece should be in tempo with it. A good strategy is to think of the opening bars, then keep that tempo in your head. Then breathe on the beat before starting. The next easiest place to breathe would be between big sections of a piece. If you just closed a big section, take a breath before beginning the next. This gives the music some space to relax and sound like an idea just finished before rolling into the next part.
The next step is to start thinking like singers or wind players. Where are the phrase endings? Before the start a phrase is a great place to take a breath. Beyond that, you'll have to work out what helps you be the most expressive. I tend to breathe very erratically when I really let go and get into a piece, with phrase/section beginnings and endings and with the smaller note groupings as well.
Breathing can also help with some difficult rhythms. I use this trick a lot. When I have a group of sixteenths or other quicker notes where the first 1/4 of the beat is a rest, like this: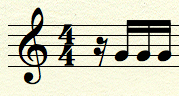 I tend to do a quick breath on the 16th rest to really give myself the feeling of the downbeat without playing it.
Do you think about breathing while you play? Is it something you plan out?