Right Hand Fingering Guide
Getting a great set of fingerings for a piece is not easy. The goal of this post is to provide some things to think about when putting together your right hand fingerings for a piece.
"Good" vs. "Bad" string crossings
This can be extremely helpfully in scalar passages. A "good" string crossing looks like this: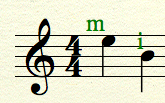 A "bad" crossing is like this: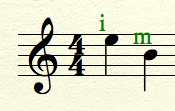 Good and bad are in quotation marks because it doesn't really matter. Whenever there's a string crossing the arm carries a finger to the next string. It's very apparent when doing a "bad" crossing. Most times the easiest way to is to use a "good" string crossing. This is especially true for beginners.
Use a to Prevent Bad Crossings
More advanced guitarists can make very effective use of a to prevent bad crossings. Take a look at this scale, for example: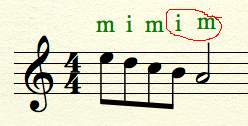 Strict mi alternation produces a "bad" crossing (circled). Using a can avoid this: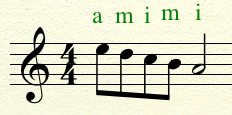 Despite all this, bad crossings happen sometimes. Your practice should include both good and bad string crossings. But when preparing a piece for performance choose the easier and most logical finger.
Arpeggio Textures: Constructive Cheating
When performing a piece that has an arpeggio texture, the easiest right hand pattern should be used. This is especially important in faster pieces. There's a couple ways to "cheat" that step outside the traditional norm.
Move the Thumb around. Sometimes it's easier to bring the thumb up to grab a string than trying to play it with another finger.
Use four fingers where three would do. A simple pimi arpeggio can be played very quickly and cleanly using piam.
The Bottom Line
When fingering a piece, make it as easy as possible. Performing is stressful already, so don't make it any more difficult. There are obvious advantages to playing studies a harder way, some etudes have specific purposes and fingering shouldn't be messed with to make them easier. However, concert pieces are often a different story.