Classical guitarists spend a good deal of time playing arpeggio type textures or broken chords, but whenever we see a chord shape- even spread out over a measure- we assume that we must move every finger into that shape immediately. It must be something hardwired into use from the days before we played classical–from all that chord strumming. I have one piece of advice about this practice of switching chords all together:
Stop it.
Well, stop it if you don't have to do it.
Let's look at the very famous opening measures of Villa-lobos' Etude one.

One easy chord in the first measure followed by a chord requiring all four fingers in the second.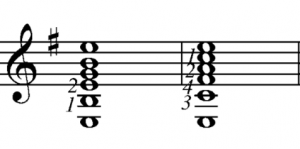 Anyone that has played this knows it's not easy to jump between these chords.
But careful planning can lead to finding easier ways. I choose 1 and 2 to hold the fretted notes in measure one. This leaves fingers three and four to prepare over the strings during the last beat of measure one. Because fingers three and four are used right away in the next measure, I place them immediately at the start of the measure. Left hand fingers 1 and 2 can be added later as they are needed. Here's the notation. The "add" notation is a bit fuzzy. It's really meant to be "get 1 and 2 down quickly as possible after the measure starts."

This can be done for any piece that has a similar texture. Or just about about anything that doesn't require a block chord. At first glance sequencing left hand fingers seems complex, but it's actually what probably happens to most of us naturally as we "get better" at a shift or chord change. Looking for it from the beginning speeds up the time required to really learn a difficult chord change or shift.
Try it out! Look for places to prepare left hand fingers over the strings or places to add fingers in rather than places them at the beginning of a measure.