The Musician's Way Giveaway
There is actually two copies to give away of The Musician's Way. After Oxford heard about the review, they sent a long another copy. As such, two people won! I used http://www.random.org/ to generate a number. I just clicked on Generate twice in a row and counted the comments.
Congrats to Jordan, the 25th comment on the post!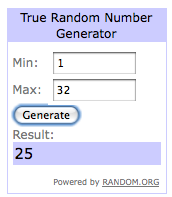 Congrats to Klaus, the 28th comment on the post.
Thanks to everyone who commented!