Concert Review: Valerie Hartzell in Dallas, TX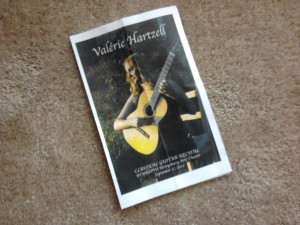 I've heard Valerie Hartzell's name for a long time: she runs the Greater Houston Guitar Guild and the Classical Minds guitar festival and competition. In addition, I've interacted with several of her students and heard nothing but good thing about her teaching.
Friday (10/17/2010) I had the opportunity to see Ms. Hartzell perform.
It's All About the Program
Hartzell has been in the music business for a long time. She's won several competitions and toured in the USA and Europe. It's no surprise that she knows how to construct a program (see below). I found her repertoire choices extremely well planned. Her program had a good flow that kept the audience interested, and showed off impeccable musicianship and technique.
It's amazing that many character pieces by Tarrega get ignored in professional concerts. Hartzell worked to remedy that situation last night and played a set of four Tarrega pieces. Like many other 19th composers, Tarrega often writes humor into his music. I found myself smiling a lot during that set–her interpretations were spot on.
Hartzell stepped outside a lot of the old warhorses of concert pieces. This included performing a few pieces composed specifically for her within the last year. More artists should do this: expand the repertoire by having new works written or incorporating little-performed works into their concert programs.
Sound, Color, and Expression
Hartzell's tone is one that guitarists should aspire to. She had a beautiful, full sound that filled the hall. She also makes good use of the guitar tonal capabilities, though in a subtle, restrained way.
During the program last night, I found myself agreeing with Hartzell's interpretive choices. Overall, she had a very refined sense of musicianship that many guitarists could learn from.
New Works
The first new work of the night was Andy Mitchell's Drift. It has a more pentatonic sound, and made use of a lot of open fifths in the harmonic language. It's definitely an attractive piece, and the audience loved it.
The other new work, Ex Tenebris (Out of Darkness), was by Olga Amelkina-Vera. I heard a lot of Brouwer in the second half of this piece. Amelkina-Vera has written a lot of works for guitar duo, and guitar orchestra, but this is one of her first solo guitar pieces. I enjoyed the second half of the piece very much, but was not so excited by the first half. That said, I do want to listen to it again. All of Amelkina-Vera's other works that I've heard have been great, and I'm sure the guitar world will hear more from her on the composition front.
Hartzell did a great job with both of these piece. Especially Ex Tenebris which is, for the lack of a better term, a bit weird. It takes a lot of stage presence and poise to pull off pieces like that, and Hartzell has a lot of both.
Conclusion
If you get a chance to see Ms. Hartzell in concert, I suggest you go. She's clearly a thoughtful, refined musician with the technique to pull off all of her musical ideas. Her programming is great, and you're sure to come away from the concert with a good feeling. While I'm no professional reviewer, I am perhaps a bit more critical than most folks. So I'd like to leave you with my wife's thoughts on the concert (via Facebook)–thoughts I'm sure many in the audience shared.

Program
Heitor Villa-Lobos (1887-1959) – Prelude Nos. 1 & 4
Barrios Mangoré – Una limosna por el amor de dios (1885-1944)
Francisco Tarrega (1852-1909) -Adelita, Maria (Gavotta), Marieta (Mazurka), Rosita (Polka)
Andy Mitchell (b. 1973) – Drift
Olga Amelkina-Vera (b. 1976) – Ex Tenebris
Roland Dyens (b. 1955) – Fuoco (from Libra Sonatine)