Concert Review: Eliot Fisk in Dallas, TX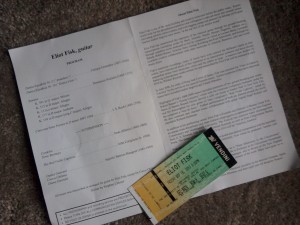 Last night (9/11/2010), I had the opportunity to see Eliot Fisk in concert. It was an interesting experience: I've seen very few of the "old guard" of classical guitarists. Certainly Eliot Fisk plays differently from many guitarists, but one thing is certain: the man has a huge stage presence and he owned the hall last night.
Master of the Guitar
Even if you're not a fan of Fisk's playing, no one can deny that he is a master of his instrument. He's able to coax and incredibly dynamic and tonal range out of his Stephen Connor guitar, and is not afraid to use it. While some players exercise a lot of restraint on this front, Fisk seems to pour everything he has into each piece.
About the Sloppiness
Fisk gets a bad wrap a sloppy player. And it's true that he doesn't play note perfect on everything. There were more than a few buzzed or split notes last night. That said, these things never took away from the performance. Any mistakes he made, in other words, were not distracting enough ruin the spell he was trying to create with each piece.
I have attended a few concerts were the performer was having a bad night. During those concerts the mistakes that happened made the audience tense and lessened the overall enjoyment of the experience. This was not the case last night.
Eliot Fisk Plays Like…
…well–Eliot Fisk plays like Eliot Fisk. Perhaps the difference between the older players and the new is how huge older guy's musical personalities are. Fisk plays in his own style, and infuses every piece he does with it. Some times, as in the case of the spanish works he played, that works really well. Other times, I did not care for it. I did not care for his interpretation of the Scarlatti Sonatas (program below) or the Chaconne. Just not my cup of tea. Everything else he did, I found great. Especially the Red Violin Caprices.
This review may seem lukewarm, but I would not hesitate to recommend an Eliot Fisk Concert to anyone. He is, as I said, a master of the guitar, and any guitarist owes it to themselves to see the dynamic and musical range the instrument is capable of in Fisk's hands.