News: GuitarBurst Launches
GuitarBurst is a database of guitar music. It's not a free PDF website, but it is a sort of information database specifically about the repertoire.
In other words, you can look up a composer (or search by publisher, or piece title, or many other things), find the entry for a given piece and you'll get this: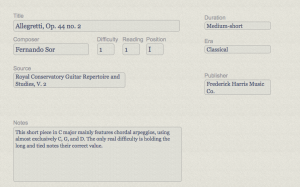 Info on reading and difficulty levels, the highest position used, duration, publishers, and notes about the piece in general. The best part? Any of those fields are searchable on GuitarBurst. So if you're looking for a piece in first position with primarily an arpeggio texture, you could search those attributes.
This is super powerful, and I hope you can make some use of it!