What To Do During the First Guitar Lesson [For Teachers]
First lessons are a big deal. They're the first time a student has met you, and their your first opportunity to show him just how awesome guitar is.
There are two things that need to happen during that first lesson: (1) the student has to feel comfortable with you, the teacher, and (2) the student has to feel like they've accomplished something.
Good Guitar Teachers Smile
Get your students comfortable the easiest way possible: smile.
Remember your first guitar lesson? I do, and I had no idea what to expect. Most students feel the same. So encourage them, even with small victories, and smile a bunch. And if you don't feel like smiling, fake it.
Here's something to remember, and something that will make smiling and being encouraging during lessons easier: music is a process. No student has perfect technique, and no student knows everything about music right away. Every 30 minute or hour session you have with them is an opportunity to shape their technique or musicianship into something it wasn't before. Music is a process–a journey–and it takes time.
Who wouldn't want to smile about being part of that journey for a student?
Get them to Actually Play Guitar
Any and every student can do something during a first lesson that they can take home to practice. This should be more than a few lame finger exercises. So here's a suggestion: play some chords.
But please, don't start with a C major chord. Young children can almost always do the simplified G, G7 and C chords. Older students (10-12+ and adults) can do some full open chords if you focus on the right ones. You can see what I do with my first week students on the Classical Guitar Blog Facebook Page (click the "like" button while you're there!).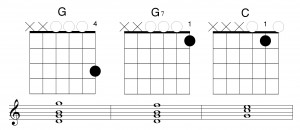 This has two purposes. First, you get to teach your students about the beat and how to count using the easiest method possible: big movements (strumming) and moving with the beat. Second, you get to talk about rhythm and how it the different shapes mean different things.
The biggest part about doing chords is the student gets to leave and be able to play something that sounds like real music, not some finger exercise.
Keep Your Students Coming Back
There you have it: two easily implemented tips for guitar teachers to give a successful first lesson.
Are you a teacher? What do you do during the first lesson?