David Russell in Dallas, TX [Concert Review]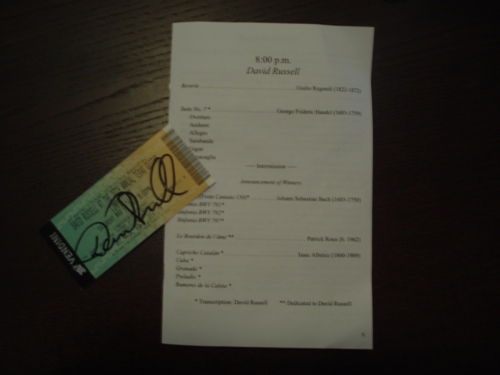 David Russell is one of the greats in the guitar world. His musicianship and skill are second to none, and he was a pleasure to listen to last weekend (March 5, 2011) at the UT Dallas Guitar Festival.
Russell walked on stage with an easy smile and the confidence of a veteran performer and quietly announced that he was going to begin with a piece not on the program. The piece started off easily enough, but soon became complicated and contrapuntal. Looking back, it was a preview of what was to come: perfectly handled lines and voices the entire night.
Perfect Tremolo
The official program began with Regondi's Reverie. The piece is one of the greatest romantic guitar works we have, and David's interpretation was fantastic. Reverie includes two substantial tremolo sections, and Russell's tremolo is literally perfect: fast, even, and well balanced within the texture.
Later on, for an encore, he also played Barrios' El Ultimo Cancion, another tremolo piece. Russell appears to be one of few guitarists who understands that the melody is the tremolo and it has to project over the rest of the texture.
A Nice Baroque Center
After Regondi came a Handel suite that Russell arranged. This piece was substantial: long and extremely well done. Both Regondi and Handel have a difficult left hand part in common, and it was striking how legato Russell is able to sound on the guitar. No easy feat. After intermission was a set of Bach Sinfonias, also arranged by Russell.
Programming a concert is no easy thing, and David Russell is clearly an expert at it. When intermission rolled around, the audience, I think, was a bit in awe. After intermission, coming back to the same general style/period of music felt like the concert never stopped. It was as if we'd picked up right where we left off.
Finishing Up
A piece by Patrick Roux followed Bach. Le Bourdon d l'ame begins with a section of typical melody/accompaniment, and sort of freely develops the melody and material for several minutes. The pieces ends with a slightly more dissonant, guitaristic portion of fast material. A lot of the seconds and sevenths and other dissonances found in the accompaniment during the slow, first second make a more prominent appearance in the final, fast section. Overall, it's an interesting piece. Worth a listen, if you haven't heard it before.
Russell's program closed with a set of Albeniz: Capricho Catalan, Cuba, Granada, Preludio, and Rumores de la Caleta.
Albeniz gets a lot of stage time in Texas. In fact, nearly every guitar concert I've attened this year has had at least an Albeniz piece or two (or three). I'm a bit tired hearing the usual, and, fortunately, David didn't play the usual stuff! This set was great, and Russell's interpretation was top notch.
If you haven't seen David Russell in concert, please try to. It's worth it. Seriously, his playing is what guitar is supposed to sound like: beautiful tone, legato, and completely in control of every musical detail.