Four Common Sense Ways to Keep Your Nails Safe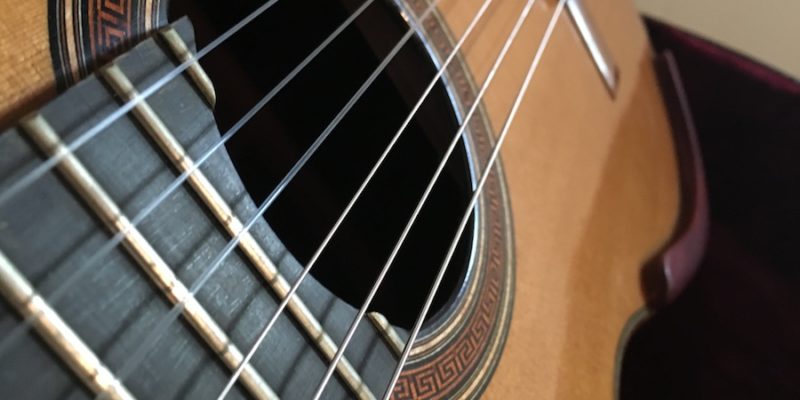 I started playing guitar hoping to impress girls. I ended up talking about my nails with a bunch of middle-aged guys
Part fetishism, part necessary evil, and part endless source of embarassment, the fingernails are both a guitarist's trusted companion and their crux. Although mother nature blessed me with some reasonably strong claws—I often perform on steel-strings and the nails usually survive to tell the tale—accidents are always waiting to happen. It also seems that breakage happens more in the fourteen days or so before an important recital, not necessarily affecting the performance, but effectively pushing me to the brink of neurosis as I file, patch, wrap, and generally nurse the damaged nail in a series of desperate salvaging efforts.
Here are some general nail care (as in precaution) tips that I would like to share. Most of them are common sense, but so are most of the genuinely good things in life.
1. Keep your nails short
I know, I know, you've toiled to develop your beautiful tone and lightning-fast technique for years, and nail length plays a fundamental role, down to the micrometer. If however you can afford the time to experiment a bit, try filing your nails down to just a couple of millimeters (that' a little over 1/16"). I have found that adapting my right hand technique to a shorter nail lenghth is a matter of minutes, and I am always surprised at how much cleaner, warmer, and clearer I sound with shorter nails. The underlying benefit: short nails are stronger and will often survive situations when a longer nail would break. One downside (aside from the fact that short nails might not work with your technique) is that if an already-short nail breaks or chips, you don't have much room for a salvaging/rescuing operation.
2. Organize your pockets (gents) and purses (ladies)
Nails and metal don't mix. Your house keys especially can do a number on your precious keratin…and so can that miniature nailfile you thought you'd always like to have around. The solution? Keep potentially hazardous objects in your left front pocket, or in a separate compartment of your purse/murse. Also, get in the habit of carrying purses and bags on your right side, so that you are likely to reach into them with your left hand. This latter point leads seamlessly into the next one, that is…
3. Train yourself to reach with your left hand
Door handles, car doors, miscellanea objects you need to pick up: a slight miscalculation in reach can mean losing a nail. This is a tip that I got from a Christopher Parkening interview many years ago, and I've tried to follow it as closely as I can. To offer a (slightly painful) example: I just recently cracked my thumbnail when trying to get my laptop out of my messenger bag. The laptop got stuck against a half-open zipper, I lost my grip…and crack. Just what I needed with a schedule full of performances.
4. Wear gloves
This last tip is really the most basic of all, but it cannot be emphasized enough. Whenever you're doing something potentially hazardous for your nails (and, I might add, your hands), a sturdy pair of gloves are an absolute necessity. Light gardening gloves with a no-slip palm work perfectly—as in my cautionary tale above, slipping objects are among the most dangerous things for your nails. Beware of cardboard boxes and heavy, bulky things in general—always offer your friends a helping hand for their big move, but make sure the hands you offer are safely guarded by some nice gloves.