Enriquez de Valderrabano (c.1500 - c.1557)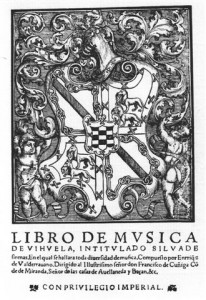 Little is known about Enriquez de Valderrabano, but the preface to his 1547 book Libro de musica de vihuela intitulando Silve de Sirenas contains some biographical information. He reveals his employed by the Duke of Béjar, but Valderrábano does not reveal anything at all about his musical trainer or career.
Valderrabano's book is dominated by intabulations of vocal compositions by Mouton, Josquin, Gombert, Willaert and others. As such, Silve de Sirenas is an important source for the study of the music by these other composers. Valderrábano did contribute original compositions as well, including 33 fantasias, differencias (variations sets), and some some stylized dance music.
Free Enríquez de Valderrabano Sheet Music
There's honestly not much out there by Valderrabano. Probably be cause he's not well known. There is, however, a complete list of the compositions in Silva de Sirenas on Wikipedia (in spanish).
There's also some Valderrabano music on the Werner Icking Music Archive, but nothing specifically for guitar.
Enríquez de Valderrábano Sheet Music for Sale
Notable Repertoire Pieces by Valderrabano
None of Valderrabano's music has really made it into our standard repertoire. He's overshadowed by his contemporaries Milan and Narvaez. That said, here are a few videos of Valderrabano's music.
Soneto I

Fantasia II

Renaissance Vihuela Composers