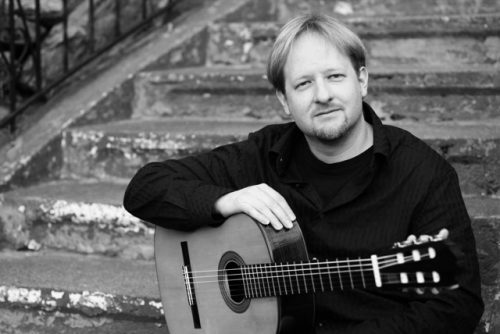 Jason Williams is a guitarist and teacher based in Washington state. I first heard of Jason when I had a chance to listen to his great CD Homenaje. The album features a solid blend of repertoire combined with great interpretation. Jason is currently teaching at Rosewood guitar in Seattle and at Western Washington University. You can listen to some of Jason's recordings on Myspace.
_________________
Classical Guitar Blog: When did you get started on guitar? What made you choose classical?
Jason Williams: When I was about twelve my parents gave me a guitar for Christmas. It was a pretty horrid instrument, which I am pretty sure they bought from one of the chain department stores like Sears or Kmart. I think what sparked the gift was when my older brother had a friend come over one evening with an electric guitar and played, which pretty much blew my mind. I can still vividly remember watching that guy. I suppose it was a pretty typical event many musicians have at an early age. Hearing those strange and wonderful sounds coming out of that guitar, I was hooked from then on. I think I managed the usual chords etc… until about fifteen years old I convinced my parents I was serious enough to start taking lessons.
Classical guitar did not really enter the picture until the age of seventeen or eighteen. I am pretty much a typical American suburbanite that grew up on rock and roll, and, come to think of it, I am still amazed that I fell into classical music so hard. None of my family listened to classical music and I really had no immediate influence. Even my first guitar teacher was really a jazz player. At the time I was pretty interested in Jimmy Page and all the Led Zeppelin I could handle. I still think he is probably my favorite rock guitarist. For me he is the Julian Bream of electric guitar. Virtuosic, spontaneous and creative with an intuitive approach…..great artist that really had a lot of soul to his playing.
At some point before my college days, I was faced with the decision of classical or jazz guitar. I knew I wanted to go into college and major in music but I was torn on what to do stylistically. At that point I was playing a few classical pieces by Tarrega and Sor – although on a steel string guitar, but I think I was simply smitten by the sound of that music. My teacher Lou Carfa sent me off to a friend of his named Jan Ryberg that taught classical for a living at the community college and off I went. I was pretty gung ho and walked in his studio the first day trying to play Asturias on my steel string. Heh… I just did not know any better.
Needless to say, I eventually got the classical guitar and Jan started me down the path that led me to the University.
CGB: Tell us a bit about your studies with Tom Johnson.
Jason Williams: When I arrived at the University of North Texas, I was still pretty green. It was good to have Tom as my instructor because he immediately began to straighten me out. I would say he really formed the bases of my tone and technique. Come to think of it, I am not sure I have ever heard someone come out of that University that I did not like there tone. I think he was able to slow me down a bit and have me go through the usual guitar pedagogy of Sor, Brouwer, Carcassi at the same time always keeping a high standard. He has a great ear and that is something that I was thankful for. In my own teaching I still utilize things he told me to do as I pass it on to the next generation.
CGB: You've also studied in Spain and with British guitarist Stanley Yates, do you feel those studies have had an influence on your playing? How?
Jason Williams: Yes I did spend a summer in Spain based out of Madrid. While I was there I spent a few sessions at the home of Jose Luis Rodrigo who was teaching out of the Royal Conservatory in Madrid. I think the influence was in part the atmosphere and inspiration it provided but is was also the first time I had spent a considerable amount of time with another guitarist other than Tom Johnson. I think I crammed at least half a programs worth of music in those lessons which Jose generously took the time to go through. I remember he had an extremely musical approach, which had a very genuine romanticism or maybe spirituality behind it.
Back at the University, I was headlong into my studies as usual when this British guitarist moved to town to do a Doctoral degree who soon completely changed my perspective on the classical guitar. That guitarist turned out to be Stanley Yates. I can remember sitting in performance class watching him play; I think it was the second time as he performed Stepan Rak's Elegy. That is pretty much what did it for me at that point. We were probably some of the first people on this side of the pond that had ever heard that piece and it started me down a road that I have not turned back from. In my later years at the University I began to take some lessons with Stanley. Eventually it became a regularity and I actually found myself babysitting his kids in trade for lessons. That turned out to be a pretty good deal because at that time his kids would go to bed and I could just sit up and practice and maybe rifle through some of his music! Also he would come back home and we would stay up going over this or that about the classical guitar world. I probably learned as much away from the guitar with him as I did with the instrument. He really opened up new repertoire for me and he challenged me by asking the question, "why are you playing this phrase like that?" Nothing could be pulled out of thin air without making some sense or having some context. Stanley influenced me to go beyond my ear and the four or five favorite recordings I had of some piece. He had a scholarly approach that asked me to understand the composer, the style and history of the music. Since he had such a wealth of knowledge behind what he was saying and a technique to back it up, it gave a justification to his teaching that has always influenced me to aspire having those elements in my own playing.
CGB: Let's talk about your new CD, Homenaje. How did you choose the repertoire for the album?
Jason Williams: In part by design and in part by default. I have probably sat down and written out twenty or thirty different ideas for a CD and each time was with a mixture of repertoire that I had down or wanted to learn to put the package together. I am never satisfied and as my thoughts and pieces changed so did the plans that I had made. Eventually I finally pulled together the resources to record and put together a program that I had been partly in and out of for a long time. Over the years I have probably played the Turina Sonata for Tom Johnson, Stanley Yates, Scott Tennant, Costas Cotsiolis, David Russell, all my colleagues and most recently with Kevin Callahan. I know that piece pretty well and at the very least know how I want to play that piece. It was a definite track that was going to be on the recording.
I think I have learned and relearned Bach's sixth cello Suite a few times and since Bach is probably my favorite composer I really wanted to record that suite. As for the rest of the tracks I think I put the Bach together with the Turina and found that it would be difficult to have some sort of theme to the recording so I went with a few pieces that I was playing at the time. The Dyens Libra Sonatine is another piece I have a history with and the Pujol and Falla were relatively new pieces for me. For sure I wanted to record the Bach, Turina and Dyens because at this point I finally feel like I can move on from this music and explore other repertoire. I also put this program together as a recital and that sort of helped push me to record all these pieces on the CD. Personally I feel like it is perfectly fine to have a recital type CD for a debut recording. It introduces a player to the listener in a nice way with variety and does not corner you into one genre or composer that some people may not like.
CGB: Is there anything different in preparing for a recording vs. preparing for a recital or performance? How did you prepare?
Jason Williams: That depends on the type of recording you want to do. Certainly there are people who want to try and bring a live atmosphere to their recording, which also gives a nice snapshot of their playing. Although I do not feel like this has to be the case all the time. For me I fell like a recording can have the potential to be a piece of art that one can work on for a good amount of time in preparation, with the idea that they would be able to put down all these high ideals exactly the way they felt the music should go. Yet, I feel like some artist do not always have the time to really let the music mature. They are pressured by a record label and go into the studio with a few days to make an album. That is great if you feel like you are really ready to lay those tracks down to the best of your ability. However I sometimes hear a recording by an amazing artist that feels like they did not put down what their intellectual and technical capacity seems to usually be and the result is nice but not their best.
Since performing always seems to be a work in progress I found it more difficult to say to myself that what I was doing was the end product, so I should go ahead and record it. You will always have critics finding something they did not like so at some point you have to have faith in yourself and make the decision to go in the studio.
I think one of the main differences between preparing to play a recital and recording is that with a recital you are learning how to cope with playing live. Whether it is nerves or mental preparation or even a fingering that seems to be more in control in a live situation, I think you have to work on the art of performing a piece. It is not just playing perfect and musical, you also want to have a way about your performance that will draw people into your world. Of course that is one of the big differences between a great guitar player and a great artist. In my own preparation, I always kind of fell into that category of having to perform a piece about ten times before I started to get comfortable playing it live. In a recording you simply have the ability to redo something, although if you are searching for that perfect sound or phrase, it can drive you crazy trying to capture it. For my CD "Homenaje", I recorded the Falla and Turina and even one of the new pieces found in the Segovia archive by Tansman, Passacaille, sat on it for a few weeks and then decided that I did not like the sound and did not think the Tansman measured up, so I dropped it and went back to the drawing board with the rest.
Recording can be a different kind of stress, but once you get into a track or two it becomes more comfortable. When playing live I work to focus my attention on the music as much as possible to keep my mind off that doubter in the back of my head. The preparation aspect is not much different than for a recording in terms of working out your phrasing and technique etc… but control under pressure is one of the main elements that I constantly battle. I think confidence is a big key to control and correct practice will breed the confidence you need, Part of it is being thorough and not leaving things to chance, whether it be memory or a technical issue. I try really hard not to practice mistakes and ultimately get the percentage of perfect repetitions much higher than the ones littered with errors. If I am not confident, what tends to come out in concert is not the best of what I did in the practice room but probably the worst. If I do something ten times and I finally achieved perfect phrasing and tempo the ninth and tenth time, I will have only practiced twenty percent of my piece similar to what I want to present on stage. If I can not play the piece at tempo the way I want, then I practice it slowly but the more and more I practice this instrument the less and less I just metronome a piece up to tempo for an hour. It is a good idea to pace oneself and I do practice extremely slow in the beginning of learning a piece, but ultimately I am preparing for that confidence and control in performance. I might also strategize the performance program to suite how I might feel on stage. A typical thing I do would be to begin with a mid-tempo piece that does not have the hardest fastest scale at measure four! For me, these are some of the main differences between going into the studio or going on stage.
CGB: Do you have plans to record more? What's next?
Jason Williams: At the moment I am working on a new program. I do want to record more and I have sort of leaned towards doing a Spanish CD which would feature some Granados and Eduardo Sainz de la Maza's version of Platero y Yo. But things can change and I have some Ponce and a few other pieces on my plate right now. I also want to work on a book idea I have to hopefully get published. I am slowly bringing all this together as I have been extremely busy with teaching and a two year old in the house!
CGB: Last year you co-directed the Northwest Guitar Festival with Michael Partington, what exactly goes into making a guitar festival happen?
Jason Williams: Since my days involved with the Dallas Classic Guitar Society and lately the Seattle Classic Guitar Society, I have been helping to put on guitar concerts–for the last fifteen years or more. It is definitely a lot of volunteer hours for these concerts and I do it because I care about the instrument and want to see these artists. However I found out that putting on a guitar festival pretty much takes the cake when it comes to hosting an event. To say the least, the scheduling can be a nightmare and simply organizing the venues and artist with fees and programming can be pretty stressful. Depending on how much you want to put into it, depends on your suffering. You can really spend a lot of time making badges for attendees, postcards and flyers and the constant time on the computer with emails. I designed and printed up these certificates for the competitors and I can't tell you how many times I screwed something up by misspelling a name or I put one certificate on top of another before the ink had dried and they all smeared! So the real answer to your question is a whole lot of work!
I think I ran around for three days with no time to eat and little sleep and hardly saw any of the concerts. Ahh but there is a reward and that is a hardy beer at the end of the day as well as the fact that I have met so many great artists over the years. It is amazing for me to hang out with some of these guitarists. Essentially I am a really big fan and taking the time to have a drink with my friend Judcaël Perroy or having dinner with someone like Eduardo Fernadez is a really fun for me. Plus, after you have put together a festival one time it will get a little easier the next.
CGB: Any tips for aspiring guitarists?
Jason Williams: I would say one of the biggest issues is playing within yourself, i.e. your ability. One of the advantages of starting classical guitar at a young age if you are fortunate is that a good instructor can feed you what you should be playing and you can eat it up quickly without protest. There is less of an ego behind a young kid and they are really there to have a good time. When you are older and come to classical guitar with maybe some experience on electric, a lot of students tend to push themselves to far, too fast. You go out to a concert and see a virtuoso and then decide you want to play like this so you go into the practice room with the Chaconne and without much pacing or time that should have been spent on music you can really control. I do like a challenge and it is one thing to have something you really crave to be on your music stand but I try to strategize what I can foresee myself learning and performing. I still work on things like Villa Lobos Preludes, which are easier for me to control.
Another tip is to get yourself out of the box you may be in. For example, if you are working on Giuliani, then it is a good idea to listen to some Beethoven and Rossini, or read some of Carl Czerny's writings. Do not simply listen to classical guitar music. When I play Turina, Torroba or Sor, my imagination runs wild with the sounds of an orchestra. I am not always thinking like a guitarist but more like a conductor. If I hear different instruments in my head then it is easier to help create a texture within the music.
Most of all, do not leave any stones unturned. Be as thorough and knowledgeable about what you are trying to accomplish. At any given moment there could be ten things you need to have worked on in a measure of music. Make sure at some point, you have gone over all those ten things. (Tone, tempo, dynamics, phrasing, relaxation, articulation, right hand fingering, left hand fingering, style, shifting, sitting position) We spend so much time going from point A to Z that we don't take two minutes to work on the one or two details that might be holding us back.
CGB: Closing Thoughts?
Jason Williams: Yes! Thanks for asking to do the interview. I really enjoyed putting some of these thoughts down, which will allow people to get to know me a little better. It is nice to see how things have changed over the years with the free and easy exchange of information such as your classical guitar blog. I hope we can do it again sometime in the future.