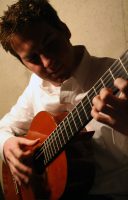 Jonathan Roth is a guitarist and composer currently doing graduate studies at the University of Southern California where he studies with Scott Tennant. I connected with Jonathan a few years ago via myspace (though I doubt he remembers!) to ask him some questions about the Christopher Parkening summer masterclass. When I started this blog, he was one of the people on my initial list of potential interviews. Fortunately, he agreed to do one!
_______________________
Classical Guitar Blog: When did you start playing? Classical First?
Jonathan Roth: Short Answer: When I was fourteen years old, but it was really Rock-and-Roll that attracted me to the guitar initially.
Long Answer: Well, it's really hard to remember exactly the first time I started playing the guitar, but I believe my interest in music began well before that. There are these faint memories of finding a piano method book for beginners inside the piano bench and, with the help of my mom, trying to teach myself how to read music (I bet they're still there!). And then, there was our electronic keyboard which I'm sure is long-gone by now, but it had this addictive, pre-programmed melody that played over a terrible midi drum track. I would press the "Start" button, listen and then try to play it back from ear – I can still remember that melody!
The guitar was introduced to me by my brother Stephen and by my friends Tim Foster and Drew Fortson when I was in the eighth grade. Stephen had been asking for a guitar for Christmas and one morning he got his wish. His Bullet Series Fender Squire ran through a small 25 Watt amp much to my parents discomfort and, as he tried it on for size, I can remember the enchanting crackle of the pick-ups and the inspiring whistle of the frequencies feeding back. Stephen would play Pearl Jam's version of Neil Young's Rockin' in the Free World more often than not and it was these performances early on that inspired me to pick up a guitar in the first place. After much pleading, he taught me how to form a "C" chord which proved to be extremely difficult, but once I got the hang of it I was thoroughly motivated to keep going.
At about this same time, my good friend Tim Foster was also learning how to play the guitar. We hung out a lot and so one night I tagged along with Tim as he went to his guitar lesson. Later, Tim taught me the chords to Name by the Goo-Goo Dolls, but this time there was a picking part! Not long after that, I was spending the night over at my other good friend Drew Fortson's house and his dad busted out his 12-string and started playing some tunes from the 70's, more specifically a song called Crazy On You by Heart. He told me "If you can learn the intro to this song, I'll be impressed." That was all I needed. After my parents finally signed up with AOL, I discovered endless pages of tablature and the internet quickly became my teacher. I learned that intro to Crazy On You and played it for him (let's not consider the quality here). I don't remember what he said, but, for me, this memory stands out as the bridge between Rock-and-Roll and Classical Guitar.
Then my mom signed me up to take lessons at Suburban Music in Wheaton, IL with a man named Russell Turek. At my first lesson I played a portion of Crazy On You for my "audition," but my mom insisted that I also learn how to read music. We bought Mel-Bay's Modern Guitar Method Book 1 and went from there – half Rock-and-Roll and half sight-reading. As my study of the guitar got more intense, I learned that Russell was classically trained and took from a man named Scott Johnston at our local community college: The College of DuPage. Shortly thereafter, my parents were given three tickets to a Christopher Parkening and Jubilant Sykes concert at Wheaton College. I remember sitting in Edman Chapel and drifting off to sleep as the hypnotizing sounds of the nylon strings filled my head. (I'm ashamed at my apparent lack of concert etiquette here, but I still remembered right!?) After the concert, my parents were talking to some friends who told them that their son took from Scott Johnston at the College of DuPage. By this time I was a Junior in high school and so I signed up with Scott and would drive there every Thursday afternoon after school for my lesson. I was seventeen and already had about three years of "guitaring" under my belt, but the agility of my fingers was something to question. Scott inspired me by pushing me into the standard repertoire via tabs and overly fingered scores. Some of the pieces I remember learning early on were Waterfall (David Brandon), Etude No. 6 (Brouwer), Romanza and the A section of Leyenda. But I was still using my Guild D4 steel-string and, at one lesson, he recommended that I purchase a nylon-string. My mom and I then left the College of DuPage stopping at a Shell gas station at the corner of Park and Roosevelt. As we were filling up, she said, "How about we at least go to Guitar Center and take a look?" And that "look" turned into a brand new Cordoba 40-R which I still have today!
High school was coming to an end and I had the strong taste of classical guitar in my mouth. Scott told me about a week long master class that Christopher Parkening gave in Bozeman, Montana. With the help of my parents, I recorded the audition on a VHS tape and mailed it in along with the application. We got a letter late in the Spring of 2002 that said I had been admitted into the program – no way! When July rolled around, my parents and I road-tripped all the way from West Chicago, IL to Bozeman, MT. I checked into my dorm and my parents hung out to help me find my way around. We got a schedule of events and noticed that I would be playing twice over the course of a week: Bach's "Prelude" from BWV 999 and then Etude No. 1 by Villa-Lobos. The week was amazing! I got to meet Christopher Parkening and a lot of other people who I'm still friends with today.
After the week was done, I began to contemplate my collegiate future. I had been looking at DePaul, Belmont, Huntington, Masters College and the University of Georgia. My parents and I decided that staying at the College of DuPage to pursue an Associates degree was probably the best choice until I could prove myself academically (I was a slacker in high school) and then locate a four-year college to transfer into. Then, sometime during the Spring of my first year at C.O.D., Scott said "Have you ever thought about applying to Pepperdine?" "No," I replied. "Well, let's give 'em a call to find out more information." What!!? Yeah, so there I was sitting and listening to my teacher on a direct call to Christopher Parkening asking about how I could apply to Pepperdine's new guitar program (then, one year old). And, as the old saying goes, the rest is history. I filled out the application online, made a low-quality audition CD using my computer microphone and mailed it off to Malibu.
It was the summer now and I was out at St. Andrew's driving range off of Route 59 in West Chicago. My cell phone rang, but it said "Unknown Caller" which usually happened when one of my good friends would call so I answered the phone obnoxiously loud: "Yellow!" And then the polite voice of a lady came through the ear piece "Is this Jonathan Roth?" After an awkward introduction, Sara Banta, the head of Pepperdine's instrumental department, told me that they had received my audition CD and wanted me to complete the remainder of the application. A month later, I found myself sitting in my old '94 Mercury Sable (rest in pieces) with my parents and my brother Andrew on a 2,000 mile trip from West Chicago, Illinois to Malibu, California.
* * * * *
If, when I was trying to figure out how to make that "C" chord, you would've told me that I'd be studying classical guitar in Malibu with Christopher Parkening (and now Los Angeles with Scott Tennant), I would have definitely called you crazy! I remember at one of my first classical guitar lessons, Scott Johnston told me to buy two books: The Christopher Parkening Guitar Method and Scott Tennant's Pumping Nylon. To now say that I have studied privately with both is a privilege and a blessing. God is good!
So, no, classical did not come first. What got me there was a healthy combination of dusty, old piano books, "break-throughs" in early 90's MIDI technology, Neil Young, Pearl Jam, the Goo-Goo Dolls, Heart, an older, inspiring brother, good friends and two loving parents who prayed and trusted God to guide their misguided adolescent into a fulfilling (hopefully life-long) journey of studying music. If God can do something as amazing as this in my life, He can certainly do it anyone else's.
"Now to Him who is able to do exceedingly abundantly above all that we ask or think, according to the power that works in us, to Him be glory in the church by Christ Jesus to all generations, forever and ever. Amen." Ephesians 3:20-21
CGB: Tell us a bit about your studies at Pepperdine with Christopher Parkening. How is he as a teacher? Any Funny stories?
Jonathan Roth: For the first year or so, I felt as though I shouldn't be there. There were some other great players, like Brandon Jones and Tyler Kleban to name a couple, and the repertoire I knew just didn't stand up to theirs. But after a few conversations with my parents, we decided that my goal should be to simply absorb everything I could from Mr. Parkening and the music department at Pepperdine. "Keep your hand to the plow," my dad would say (he grew up on a farm in Indiana) and it was that advice that has served me well over the years. There's really nothing quite like hard work and you only need to ask my friends who went there to discover that Pepperdine certainly makes that your priority! Mr. Parkening is a fantastic teacher. I remember him asking me to bring in my repertoire list so that he could look it over again. It was at this point that he challenged me to raise the bar by taking on some more difficult rep. I immediately dove into the Prelude and Allegro from BWV 998. He'll meet you where you're at, but if he senses that you could do better or that you're not trying your hardest he'll definitely let you know. I should add that he always taught with a spirit of encouragement. Funny stories? Well, I don't think it was very funny, but I remember trying to learn Rick Foster's transcription of Jesu', Joy of Man's Desiring in about a week's time and then bringing it into a lesson . . . oh mercy. The first twenty-one bars were semi-successful, but, as soon as it modulated to D minor, it was a downward spiral to the end. Murphy's Law was definitely in effect! I stumbled across the finish-line, weary and bruised from my battle with Bach and, after the dust settled, Mr. Parkening (in the nicest possible way) said something to the effect that I should be more prepared when I come in for a lesson. It only took one of these experiences to know what was expected of me as a guitar major at Pepperdine. We were required to have pieces performance ready for each lesson and the focus was always tone production, phrasing and the overall interpretation of the piece. And now, as a teacher myself, I see how these expectations really maximize a student's lesson time. Mr. Parkening's intense musical philosophies were always trumped by his desire to see us using our talents for the Lord. He met me where I was at and that made all the difference.
CGB: How about at USC?
Jonathan Roth: USC has been and continues to be an amazing experience. When I started at SC in the Fall of 2006, Scott Tennant noticed I used big motions, but got very little sound – "wispy," he called it. We focused on planting the right-hand fingers so that the contact point was always the flesh and, upon activation of the strings, that the nail would engage the nylon immediately with the string exploding past the nail as I followed through. I learned that it was not me attacking the string which made a big sound, but rather the activated string being released which created the desired result. Besides getting a bigger sound, it also developed a higher level of control in my right hand. That's when I learned how to "drill" pieces and really practice efficiently. I can now learn a piece and have it ready in a week if I need to (barring any social distractions). Scott Tennant really taught me how to practice and practice efficiently. The program has about forty classical guitarists which includes undergrads, grads and a few minors. The sheer size of SC's department means that there are a lot of different ideas, playing styles, techniques and repertoire preferences swirling around. It's the perfect place to be exposed to anything and everything.
CGB: Is composing something you've always done? Or did it come later on after playing for a while? Any ideas what caused you to start composing?
Jonathan Roth: Back in high school I was in a band with two good friends: Drew Fortson (bass, vocals) and Aaron Wilson (drums). I usually wrote the songs and the lyrics, but it always seemed forced. I had my Rock-and-Roll dreams, but the things I wrote about weren't my own experiences. In the end, I was trying to write about stuff that wasn't really there. After Senior year, we all went our separate ways. This is when I began writing on my steel-string (acoustic singer/song-writer stuff), but I was also pursuing classical guitar just as much. I remember sitting on my couch downstairs one evening practicing some repertoire which was in Drop-D – Canarios perhaps? But anyhow, I had the hymn tune Be Thou My Vision in my head and began to pick out the melody in the key of D. Later, I found a hymnal which we had up on a book shelf and looked up BTMV; it was in Eb! So I figured the key of D major would work just fine. It was really that arrangement which started it all. I brought it into my next lesson with Scott Johnston and he liked it. He liked it so much that he had me play it at my jury. It was that initial encouragement that has kept me composing to this day. I should also mention that my other inspiration for composing is my friend Kevin Smith. He used to play at BORDERS book store in Wheaton, IL and a bunch of us would go out to see him perform. This guy can play!! He performed original compositions from his album Sundown and it immediately captured my attention. I remember trying to write, but it always ended up sounding like his stuff. This was frustrating, but eventually I found my stride. My goal is to write music which is both accessible to the listener and fun for the player.
CGB: Tell us a bit about your CD Meditations. All your own compositions? Any upcoming recording projects?
Jonathan Roth: Meditations was recorded in the stairwell of Pepperdine's music building and a practice room in Wheaton Academy's (my old high school) basement floor by my friend Brandon Jones who is now a sound/mixing engineer in Burbank, CA. Brandon was just looking for someone to help him test out his newly acquired Pro-Tools rig so I offered up my services. I think Be Thou My Vision was the first track we put down, but, after we did a couple more, I realized I was on my way to having my own disc. Six of the ten tracks are original. The other four are hymn arrangements; only one of which is in public domain. So I had to learn about mechanical royalties the hard way! I'm currently recording a new CD called Nostalgia at the Firehouse Studios in Pasadena, CA. My teacher and friend Tim Kobza has been so gracious to get me into the studio on the weekends. Milton Gutierrez is the engineer pushin' all the buttons. These guys are a blast to work with! Each piece on Nostalgia is connected with a person, place or event who/which was significant in my life. It has a "folksy" feel which is definitely a departure from the first CD, but I'm excited to finish it up and get it out there. The CD should be available by late Spring and the scores will follow.
CGB: How is your music published? Self-published?
Jonathan Roth: Yeah, I publish the music myself. I input everything into Finale, save them as PDFs and then e-mail them to Chernay Printing in Coopersburg, PA. They do good work!
CGB: So you founded Roth Music Group, what made you decide to go that route?
Jonathan Roth: Roth Music Group is simply a D.B.A. to keep any monies made from sheet music, CDs or licensing separate from teaching and gigs. Also, I was informed that, if I joined BMI as both a writer and a publisher, I would receive 20% in royalties for any performances. Not a bad deal!
CGB: Any big upcoming performances or composition projects?
Jonathan Roth: My first DMA recital is Sunday, May 10, 2009 at 8 p.m. in USC's University Church. May 10 is Mother's Day – bring your mom! The program will include Giuliani's Sonata in C (Op. 15), Rodrigo's Sonata Giocosa, the Grave & Fandango from Boccherini's fourth guitar quintet and Castelnuovo-Tedesco's "Homage to Boccherini" Sonata. Also, my friend Eva Beneke and I are pulling together a concert of original music for guitar written by USC guitarist/composers. It will be about a month before my recital on Saturday April 11 at 12 p.m. in USC's Fisher Museum of Art. You'll hear original music by Eva Beneke, Alex Miller, myself and this year's featured composer: Carlos Rafael Rivera. Please come! Composition projects? Just trying to finish up two tunes that are going on the new CD: Rocky Mountain Reel and Flat Tire.
CGB: What are some of your best tips for guitarists?
Jonathan Roth: Always work hard. Keep a positive attitude (teachers notice). Take advantage of every gig, every master class, every teaching opportunity. Target your unique gifts and develop them whether it is teaching, composing, performing, research or what have you. A verse that has always been inspiring to me is Proverbs 22:29 "Do you see a man who is skilled in his work? He will stand before kings; he will not stand before unknown men." Odds are the only person keeping you from doing your very best is you. I speak from experience!
CGB: Any final thoughts?
Jonathan Roth: Stop reading this and go practice. ☺