Perfecto De Castro Interview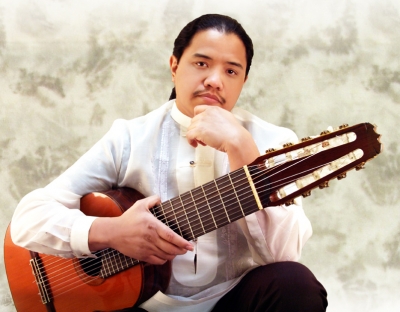 Perfecto De Castro is a classical guitarist based in Southern California. In addition to his numerous solo guitar activities, he is a member of the Kasilag Guitar Quartet and teaches privately. Perf released a CD in 2007 showcasing the his own talents in addition to the capabilities of his unique instrument, the ten-string guitar.
Classical Guitar Blog: How did you start guitar? You were a rock guitarist before coming to classical, correct?
Perfecto de Castro: I actually started on Classical. I was 13 at the time and my high school music teacher challenged the whole class to learn at least 1 musical instrument by the end of the school year. I signed up for lessons at a nearby Yamaha school and I was assigned to the CG teacher. It helped that I already knew how to read and write musical notation, which I learned from my elementary school years.
I played CG for around 8mos, then I finally convinced my mom to buy me an electric. I did the whole rock guitar thing for the next 10 years or so until the music scene in the Philippines started to change trends. I went back into CG in 1998, around the time I met Maestro Jose Valdez, who was instrumental in getting me back into Classical Guitar.
CGB: Do you still pursue rock gigs, etc.?
Perf de Castro: Once in a while I do Rock gigs…. however, I mostly play electric while teaching and during student concerts. I also have a recording setup at home where I record stuff on electric just to take a break from practicing CG.
CGB: Tell us about your music education in the Philippines. Who did you study with? Different from USA or European music schools?
Perf de Castro: This'll sound weird but I received my degrees in Guitar Performance and Music Education at the Philippine Women's University. Apparently, the school started out as an all-female school for Social Work and turned co-ed when they expanded to include Colleges in Music and Fine Arts!
My teacher was Jose Valdez, who is responsible for standardizing guitar curriculum in the Philippines. And he also plays 10-string guitar. Musicality was prioritized over technique, so we didn't spend too much time running drills. His prescribed repertoire for each level took care of technique issues. And the grading standards were pretty high, compared to the curriculum I've seen here in the US. We were required to perform Bach as early as level 2, Asturias and Recuerdos at level 4, whole suites at level 6-7 and an entire guitar concerto at level 8!
As far as the other aspects of music education go; music theory, counterpoint, forms and analysis, etc are all rooted in the Classical style. There were little classes offered in the Modern/Contemporary idiom.
We rarely have visiting artists in the Philippines but when we did, I was fortunate enough to have played in a few masterclasses: Jorge Orozco, Angelito Agcaoili, Flamenco guitarist Adolfo Timuat
Since moving to the US, however, I've supplemented my education with masterclasses from Janet Marlow, Scott Kritzer, Tilman Hoppstock and Paul Galbriath; and lessons with Grisha Goryachev, Jonathan Leathwood, Jim Smith and Scott Kritzer.
CGB: Alright, I have to ask, why the 10 string guitar?
Perf de Castro: Well, the primary influence was my teacher Jose Valdez. I was intrigued by the instrument from our very first meeting when he played something on it for me. Another reason may be that I was also playing 7-string electric guitar at the time so I am aware of all the possibilities that more-than-6-strings have to offer. When I eventually bought my first 10-string, I sold my 6 string guitar and dove in head-first into what Yepes called "..the wonderful mess" !
CGB: Do you still perform with the Kasilag Guitar Quartet? How do rehearsals work for that group? I've heard stories of string quartets screaming at each other, does it work like that in the guitar quartet world?
Perf de Castro: I haven't performed with the KGQ recently; our last performance was in 2005. During that time, we emailed parts and arrangements to each other to learn individually so that when we get together all we had to was work on playing the music as a group. We did a few rehearsals leading up to the concert.
As with any group that gets together, chemistry between personalities and abilities is important. If the core chemistry of a group is strong, then the group will stay strong. Sure there were ups and downs but I was fortunate enough to be involved with some good people in the KGQ. No argument ever amounted to fisticuffs! ☺
CGB: You're a teacher as well. Do you teach solely classical students?
Perf de Castro: I teach a whole range of styles from Blues/Rock to Classical/basic Flamenco. I even have a couple of electric bass students.
CGB: What's your approach to teaching rock guitar? Do you have any things that you think every guitarist should learn regardless of their genre choice?
Perf de Castro: Well, the proper mechanics of guitar playing crosses over genres, in my opinion. Proper positioning, LH and RH movement, posture, practice habits and fretboard mechanics. The general language of Music: notation, rhythms, theory, etc… is important as well.
My approach to teaching guitar, applicable to all styles, is to get the student to play music as quickly as possible, with the technical solutions embedded into whatever musical example. Of course the first few lessons of somebody starting from scratch will involve unmusical exercises but as soon as their fingers are ready I assign bits of music.
For example, after a couple of week's worth of LH chromatic exercises ( 1234 ascending, 4321 descending) I want the student to actively choose which left hand finger to play. Now instead of assigning variations to the chromatic exercise (1324 4231, 121314 434241, etc) we start working on a single-note riff of a popular song…. I usually use a simplified version of "Sunshine of Your Love" because virtually everybody knows the song and the other parts are simple enough that we can eventually learn the whole song
When a student feels that they actually making music instead of "exercising", it makes them feel good about themselves and that in itself is a huge motivator to learn more and stick to the lessons.
CGB: What are your top three tips for practicing or performance?
Perf de Castro: Play slower than you think you should – this applies to both practice and performance. Practice slow enough for you to be on top of what you want your hands to do. Perform slower than you think you should because adrenaline/excitement/nervousness causes you to speed up uncontrollably.
Let go of your mistakes and don't scold yourself in public for any mistakes made. Address any issues/mistakes in the practice room alone or with your teacher.
Don't lose sight of what made you want to play guitar in the first place and always refer to the feeling of your first guitar achievement when things are going tough.
CGB: Can you tell us a bit about your CD, A Journey through 10 Strings?
Perf de Castro: It's my latest CD which in my mind reflects my own journey with the instrument.
It starts off with 2 Weiss pieces: the well-known Fantasia, which I play in Dm, paired with a little-known Allegro, also in Dm.
The next cuts are a set of Filipino pieces, which are representative of where I am from. The first in the set, "Prelude Etnika", is inspired by the music of Northern Philippines. The next 2 pieces are art songs: "Hatinggabi" (Midnight) and "Dahil sa isang bulaklak" (Because of a flower), and they represent the cosmopolitan area. The set is closed with "Tocatta" which is inspired by the music of the predominantly Muslim Southern Philippines.
"Sylph Dance" is a 5 movement suite written for and dedicated to me by English composer Rohan Leach. It's a wonderful and engaging work that not only explores the 10-string's range but its wonderful resonance as well.
The CD is closed "Canco Trista" by Paco Talarn, whose music I found at Delcamp's guitar forum. I was really taken by this piece and the story behind it that I played it daily for a couple of months and literally played nothing else! With Paco's blessing I adapted it to 10-strings by lowering some bass notes and subtly altering some of the voice movements.
The Weiss pieces are a nod to the 10-string's cousin, the lute. The Filipino pieces are a nod to where I am from. Together my instrument and I engage the future with new music (Sylph Dance) and our own versions of existing guitar music (Canco Trista).
CGB: You've appeared as a guest artist on more than a few albums as well. How does that work? Do you just show up and read something then be on your way?
Perf de Castro: For the most part, whoever invited me to guest on their recording already know what I'm capable of. So instead having me come in and read off a sheet, I'm usually given free creative reign to come up with my own parts to compliment the song. I do get a little more involved and ask what the ideas behind the song are and what kind of sound they're shooting for. From there, I listen to the track and put my own spin on things. Sometimes I hear the parts in my head immediately, other times I improvise a little bit before coming up with specific parts.
CGB: Any big plans in the works? What's on your plate?
Perf de Castro: I'm preparing to record my next CD, which I hope to release in the Spring. It will feature my own editions of standard CG repertoire expanded to 10-string.
I also have another CD project in mind that will feature easy to moderate CG pieces which I will play on 6-string, a wonderful Torres copy by the Danish luthier Kenneth Brogger. My aim for this recording is to provide a good reference for CG beginners as they start diving into the repertoire.
I will be touring SE Asia in the summer. If all works out I will be in the Philippines, Hong Kong and Singapore. I will post details on my website's News section when I get them.
I'm waiting to receive some new works for 10-string, I'm particularly excited by a piece that Andrew York is currently writing for me. These pieces will eventually be recorded for an all-new 10 String Music CD for release next year.
CGB That's awesome that York is writing a piece for you! How did you get linked up with composers who have written things for you?
Perf de Castro: Well, composers are always looking for people to play their music. The internet helps a lot as well, I've gotten emails from composers who think their music might fit my playing, and I've also done my share of soliciting new works.
In the case of Andrew York, I was at the right place at the right time… we met at Los Angeles Classical Guitars and during our conversation I threw out the idea of him writing for the 10-string…. which he found interesting, so we started corresponding.
CGB: Did you take any active role in their composition, work closely with the composers, etc?< Perf de Castro: Well, I like being surprised by the music and it's always an adventure diving into a newly written piece.
For composers not familiar with the guitar, I just give them my range and let them write whatever they want. I actually find this quite exciting because they tend to write stuff that's not usually done on guitar and it becomes my challenge to make it all work. I tend to discover new techniques/approaches that way.
For guitar composers, they pretty much know what they want and they almost always indicate it on the score. For those not familiar with 10-string, I may offer up suggestions on how to make certain passages fit better.
For Andrew, I loaned him a 10-string to help him write the piece. I also went to his house and played a couple of things just so he can see what things are possible playing-wise…. now that's a nerve-wracking experience! Playing for one of your heroes in his home knowing that he's keenly watching your every move! When he's finished writing, we'll get together once more and discuss the piece so I'll get some more insight behind the music.
I let new music sit and simmer for awhile before I perform it in public. And I usually record practice takes so I can get feedback from the composer in fine tuning my interpretation.
CGB: Any other future plans?
Perf de Castro: Future plans include shooting a performance DVD which will include a short instructional section on getting started with 10 strings. Publishing my 10-string arrangements, perhaps publish a method book as well.
So many plans, so little time! I'll keep chipping away at them and eventually everything be realized.
Thanks for having me on the Classical Guitar Blog, Chris! I wish you and your readers all the best!