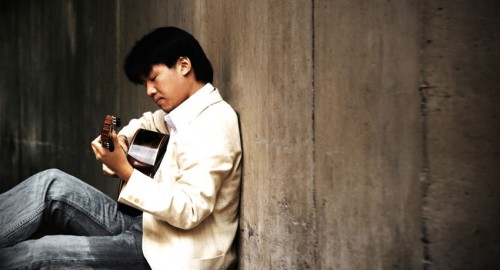 Steve Lin is a classical guitarist and recording artist for VGo Recordings.  Steve has performed throughout the United States, Mexico, Taiwan and Italy, and, in addition to his busy performance schedule, is a DMA candidate the New England Conservatory of Music. Check out some his playing on Youtube here.
ClassicalGuitar.org When did you start playing guitar? Did you start with classical?
Steve Lin: I started when I was 14, after unsuccessful attempts at the piano, violin, and viola. I was living in Taiwan, and I wanted to learn Taiwanese pop. A few months later, my teacher, Jin-Tsai Yeh, encouraged me to try some classical. Not long after, Mr. Yeh referred me to Wei-Ren Chuang, who was mainly a flamenco guitarist. Mr. Chuang taught me a lot of basic classical and flamenco technique and really gave me the foundation for a lot what I have today. Every time I go back to Taiwan I make it a point to go see Mr. Chung. I'm very grateful to Mr. Yeh as well, but unfortunately we lost him to lung cancer a few years ago.
CG: Can you tell us a bit about your experiences as an undergraduate and graduate student in guitar?
Steve Lin: I started at California State University Northridge where I studied with Ron Borczon and Ron Purcell. Borczon struck the perfect balance between "tough" and "love" and refined my playing from every aspect. Ron Purcell is extremely dear to me—he is like a living piece if history. As I get older, I become more mindful of history and of the legacy of those who have come before us. We can find hope, inspiration, and guidance from their examples as we discover our voice within this time and space.
After 2 years at CSUN, I decided to transfer to New England Conservatory to finish my bachelor's degree because I wanted to see the east coast, and I was tired of Los Angeles. The east coast was the perfect change of pace for me—the foliage, the snow, the NEC vibe, the subway, the compactness of the city. I studied with Eliot Fisk for 2 years, during which he blew my mind and threw some doors wide open for me. Eliot was also the one who suggested that I go to Yale for my masters.
Yale was an incredible opportunity. NEC's music infusion atmosphere was great but it had a way of dulling my brains. I missed the university atmosphere where you could interact with people different disciplines, and Yale gave me that chance. My favorite classes there were calculus and Italian. Yale was about being surrounded not only by smart and talented people, but also by people who had incredible drive and passion, by people who sought to make use of every opportunity that the school provided, by people who wanted to push their limits, and by people who had a sense of something greater. My dad always told me that opportunities found those who were ready for it. In a way, Yale found those people.
I returned to NEC for my doctorate, partly because I didn't know what else to do, and partly because I always assumed I'd get a DMA and try to get a teaching gig somewhere. NEC, despite all its faults, was the place I wanted to return to. I couldn't ask for a better teacher than Eliot Fisk, and I couldn't find a more nurturing environment where I could play chamber music or collaborate with young composers on new commissions. Yet, I got more than I asked when I returned to NEC.
Before the semester started, I was at Eliot's house, talking about organizing the guitar studio at NEC to do outreach, an initiative we named Boston Guitar Project. From 2005-2008, we gave around 20 outreach concerts each year, performing in places like churches, libraries, high schools, hospitals, assisted living centers, and other community venues. BGP allowed us to accomplish two major goals: first, we brought our music to parts of the community that never would have thought to attend a classical guitar concert, and second, we created many performing opportunities for ourselves. Through outreach, we learned to perform under some of the most unforgiving circumstances (say, at 9:00 AM), in the most unlikely venues (hospital corridors), and for the most diverse audiences. Finally, as a result of playing at these institutions, we developed some long-lasting relationships—for example, we exchanged playing for one of the church's Sunday services in return for using the sanctuary for a few concerts during the year.
Finally, during my time as a DMA student, I had the immense privilege of working for Eliot on Boston GuitarFest 2006-08. From my three years of work, I learned so much about every aspect of administration and organization. Working on the festivals also put me in contact with people who were engaged in every aspect of the music industry, like performers, producers, educators, administrators, fund raisers, human resources, grant writers, etc. These were skills I could not have acquired any other way, and now they are helping me in my career. I've always loved the nitty-gritty of the behind-the-scenes, and I'm very indebted to Eliot for giving me the opportunity to take an active part in Boston GuitarFest.
CG: What's your favorite story from your time in school?
Steve Lin: When I transferred to NEC to finish my bachelor's, I did not really know who Eliot Fisk was. I had heard his Paganini CD and was blown away by it, but I didn't know anything of the legends and stories that preceded him. As it happened, Eliot only had a couple of students at the time and had time to listen to me, even though I wasn't signed up with him. At my first lesson, I played the first two movements of Bach's BWV 1001 for him. The lesson was incredible; he was accompanying me like a continuo, something I had never heard any other guitarist do (and to this day, still haven't heard anyone else do). He talked about harmony, modulation, how the piece fit into Bach's other violin works, Bach's choral works, etc. It was a lesson both detailed and broad-minded.
CG: You are a tremendous performer, how do you approach learning a new piece?
Steve Lin: First, I have to say, I'm very flattered. All my life I've been surrounded by people who are more intelligent, more talented, more experienced, and better prepared than me, so any success I have in performing is because I've been fortunate to have all these positive influences on my life.
Generally, to learn a new piece, I just sit down and go at it. Mr. Chuang, my second teacher, consciously or not, gave me a lot of pieces to work on, and subsequently, that helped my sight reading tremendously. Then there's all the slow practice and focusing on spots, memorizing it gradually—the usual good stuff.
I love avant-garde music—it makes you think. Every now and then, I get an opportunity to perform this crazy stuff. In March 2008 I had a chance to work with Helmut Lachenmann, one of the greatest composers alive today. I was with Stephen Drury's Callithumpian Consort, preparing for a performance of Lachenmann's '…zwei Gefühle …' musik von Leonardo. Aside from the challenges of the strange ensemble, constant meter changes, and following a conductor, the guitar part itself was just plain difficult. I have never ever had practice for 45 minutes just to hammer out a couple of measures—and the piece was 20 minutes long. Slowing down my entire learning process down to 2 or 3 measures at a time was a great test however, and of course, there's nothing like actually making it through all those rehearsals and finally having a very successful performance.
CG: What are your top tips for aspiring guitarists?
Steve Lin: I assume all will get good doses of scales, repertoire, and all that, so I won't beat that horse. Here are my suggestions:
Do outreach, and lots of it – you'll learn to play in some of the most ridiculous circumstances, and that will only make you a better player. You'll also learn to interact with the audience, which will make your performance more memorable.
Learn to manage your money, time, and taxes. Learn ways to self-promote, get students, get gigs, etc. I know it's a tall order, but I'm sure someone at your school can help you, or at least give you leads.
Less coffee.
More exercise.
Read a book.
CG: You've recorded a few CDs (I'll link to your discography page here), what's the recording process like? More stressful than giving a live concert?
Steve Lin: Recording is a process, while giving a concert is an event. The two have nothing to do with each other. Everyone should record: the process makes you a better player, and in the end you have a tangible product that you can use for promotion. A CD is like business card, and it's just one more tool you need in your box to help you get gigs. Of course, remember that we're really moving past CDs and MP3s. We need to be mindful of the newer technologies and trends. Simply put: YouTube.
CG: You're currently a DMA candidate at the New England Conservatory, what's the plan after graduation?
Steve Lin: Eliot always said that as students, we all need to have a plan for what we're going to do while we're in school, so that there isn't a transitional dead space of a summer job right after graduation. If you think about all those 20-somethings with a masters who have to stumble around for a few months (or a few years) to figure out their career options after graduation, and then consider how much time and money it has cost (sometimes close to $200K), you realize how it's criminal that our schools have no way of better preparing us for the uncertain road ahead.
I've been fortunate because I've had the opportunity to do a variety of things during my time as a DMA student—Boston GuitarFest, Boston Guitar Project, teach, perform, record—I'll just continue to do what I've been doing for the last few years. It's a quite a journey, and at every corner I'm just so thankful that people are so supportive and welcoming.
CG: Any final thoughts?
Steve Lin: I'm actually very optimistic about being an artist in today's world. We all got into this thing because we love the guitar, but we should not be afraid of dwindling concert subscribers and falling classical music sales. Remembering that doors open when others close, I'm convinced that there are more audiences to tap into, more young minds to inspire, and more unconventional spaces to fill with our music.
Tanya Maggi, the outreach coordinator at NEC, said one of the goals of NEC's outreach program is to help "students discover what it means to be a musician in the 21st century". We live in a very different time from what our teachers grew up in. We can always learn from their models and examples, but it's up to us to meet the challenges unique to our generation. We need to use every bit of our creative energy and passionate talent to develop 21st century solutions. Through our innovations, we'll get our chance to shake things up a bit and to carve out our own futures.