Open Thread: Horror Stories
I want to hear the stories behind the nicks and dings on your guitar. Any good ones?
I just put my first real ding on my Thames while changing strings. My high e string slipped out of the 12-hole tie block leaving this beauty: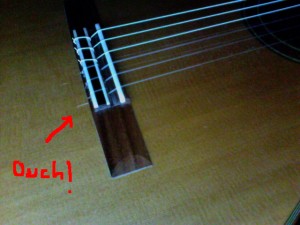 I still remember my first ding on my Kenny Hill New world guitar. It was a beautiful finish until I stood up hastily in the practice room and let the edge of a stand skip along the top.
Got any horror stories?