Adrian Le Roy (c.1520-1598)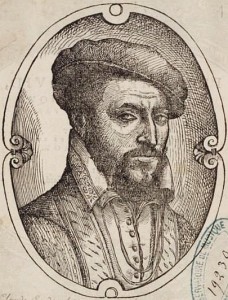 Adrian Le Roy was born in Northern France. Not much is known about Le Roy's formative years, but he, like many others of his generation, probably got his training as a chorister. Le Roy left us four volumes of four-course guitar music and several more books of lute music.
In 1551, Adrian Le Roy and his cousin, Robert Ballard, got into the publishing business when Henri II granted him a license. Later that decade, Le Roy and Ballard were awarded the title of Royal Music Printer, and royal patronage become a crucial part of the firms success.
Adrian's function as the Le Roy/Ballard firm was that of an artistic director. He made sure only the good stuff got published. That included, of course, Le Roy's own works: six volumes of lute music, five books for four-course guitar, and much more.
Free Adrian Le Roy Sheet Music
Adrian Le Roy Sheet Music for Sale
Notable Repertoire Pieces by Adrian Le Roy
Branle de Bourgogne

Fantasie 1 & 2

Renaissance Four-Course Guitar Composers